Thân gởi các gia đình có con đi học trong BESD, Chúng tôi được Hiệp Hội Giáo Dục Bourbonnais (Bourbonnais Education Association, hay BEA) cho biết họ sẽ đình công vào thứ Năm, ngày 4 tháng Ba. Điều này có nghĩa là trường học sẽ đóng cửa cho đến khi có thông báo mới. Việc này liên quan đến tất cả các hoạt động, thể thao, câu lạc bộ, và hoạt động ngoại khóa. BESD số 53 vẫn duy trì chương trình lấy bữa ăn miễn phí cho học sinh vào các ngày thứ Ba và thứ Năm. Địa điểm được chuyển từ Trung Tâm Upper Grade Center sang cổng chánh phía đông của trường Liberty Intermediate School (là điểm đưa rước của xe buýt). Quý vị có thể vào nơi này từ đường Burns. YMCA sẽ mở cửa cơ sở giữ trẻ trong độ tuổi đi học từ 6:30 sáng đến 6:00 tối cho tất cả các gia đình cần trợ giúp, ngay cả khi chỉ trong thời gian ngắn. Chúng tôi gởi đính kèm cách chi trả và gói ghi danh của cơ sở. Họ chấp thuận CCR&R và sẽ hỗ trợ gia đình ghi danh nếu cần. Quý vị có thể gọi cho quầy bàn của YMCA để bắt đầu tiến trình, theo số 815-933-1741. Như quý vị biết, chúng tôi đã gởi Chromebooks về nhà cho tất cả học sinh vào thứ Tư. Chúng tôi làm vậy để có thể sử dụng những công cụ dạy học này khi xảy ra đình công. Không có bài tập bắt buộc nhưng chúng tôi sẽ gởi cho quý vị thông tin để truy cập và xem nhiều tài nguyên giáo dục. Chúng tôi biết đây là điều khó khăn với các gia đình khi đã phải chịu đựng nhiều thứ trong năm nay. Chúng tôi hứa tiếp tục dàn xếp để có được thỏa thuận với BEA, bảo đảm công bằng cho tất cả các bên và không ảnh hưởng xấu đến sức khỏe tài chánh lâu dài của khu học chánh. Nếu quý vị muốn xem bản đầy đủ đề nghị của chúng tôi thì vào mạng lưới besd53.org rồi bấm vào Thông Tin Thương Thuyết. Hội Đồng Giáo Dục Trường Tiểu Học Bourbonnais Khu Học Chánh số #53

Estimadas familias de BESD: Bourbonnais Education Association (BEA - Asociación de Educación de Bourbonnais) nos ha comunicado que entrarán en huelga el jueves, 4 de marzo. Esto significa que la escuela está cerrada hasta nuevo aviso. Esto incluye todas las actividades, deportes, clubes y actividades extracurriculares. BESD#53 continuará con el servicio de recojo de comidas para los alumnos los martes y jueves. Hemos cambiado el lugar para el recojo de Upper Grade Center a la entrada principal este de Liberty Intermediate School (el lugar en donde el autobús deja y recoge a los alumnos). Aquí se llega desde Burns Road. YMCA abrirá sus instalaciones para el cuidado de niños en edad escolar desde las 6:30 a.m. hasta las 6:00 p.m. para todas las familias que puedan requerir ayuda, aunque sea por corta duración. Adjunto encontrarán su estructura de pagos y paquete de inscripción. También aceptan CCR&R y ayudarán a las familias a presentar la solicitud, si lo necesitan. Pueden llamar a recepción del YMCA al 815-933-1741 para empezar el proceso. Como saben, el miércoles entregamos Chromebooks a todos los alumnos para que la lleven a casa. Hicimos esto para poder usarlas como herramientas educativas en caso de una huelga. No hay tareas por completar pero enviaremos información sobre el inicio de sesión y cómo acceder a los recursos educativos. Reconocemos que este es un contratiempo para las familias que ya han tenido que soportar mucho este año. Prometemos que seguiremos trabajando para llegar a un acuerdo con BEA que sea justo para todas las partes y no ponga en riesgo la salud financiera a largo plazo del distrito. Si desea ver nuestra propuesta en su totalidad, vaya a besd53.org y haga clic en Negotiations Information (Información sobre las negociaciones). El Consejo de Educación Distrito Escolar n.° 53 de las Escuelas Primarias de Bourbonnais (BESD#53)

A big thank you to the Kankakee Health Department and their partners for providing the 2nd dose of the COVID 19 Vacine to 190 staff members yesterday!






I have attached flyers for an Open House for a new Community Welcoming Center in Kankakee County.  It will take place at 367 South Schuyler Ave. Kankakee, IL from 9:00 AM to 4:00 PM.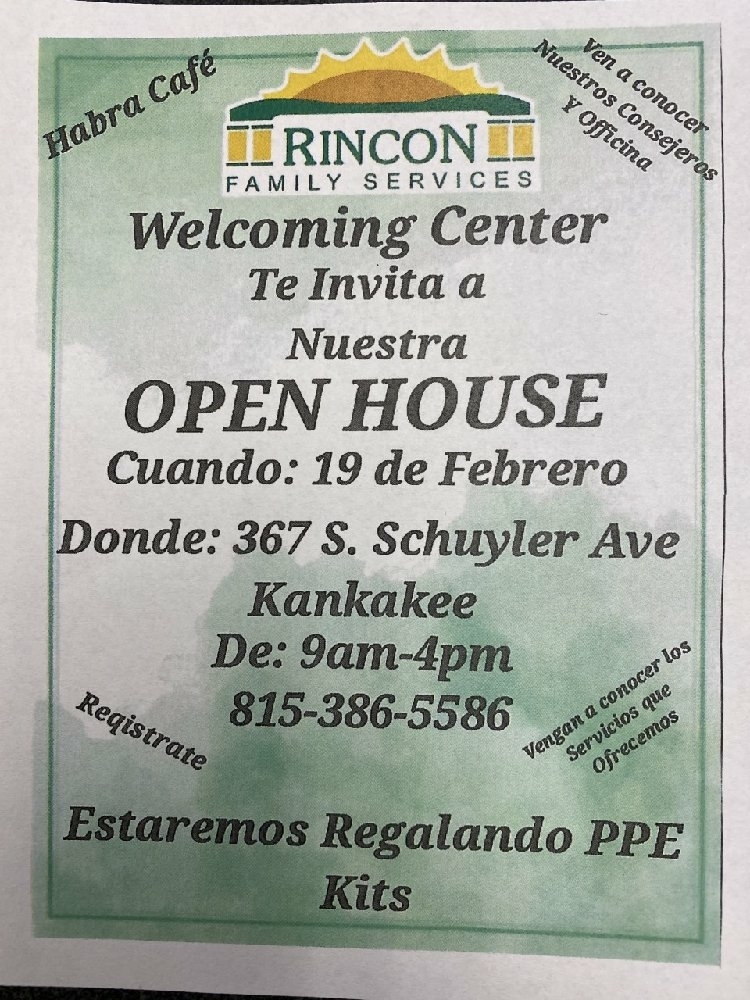 Dear BESD #53 Families and Community, Out of an abundance of caution for our students and staff, we will be utilizing a Remote Learning Planning Day for tomorrow (2/16/21). We are in a winter storm warning that remains in effect until 9 am tomorrow that includes dangerous travel, heavy snow, and cold temperatures. This school year the State Board of Education has afforded us 5 Remote Learning Planning Days (these days do not have to be made up nor is there Remote Learning for Students on these days). Please be safe and stay warm. Sincerely, Dr. Adam Ehrman, Superintendent



Dear BESD Families, Due to the inclement weather this afternoon we are sending all staff home now. There will be no remote learning sessions for students this afternoon. Thanks and stay safe!


A big thanks to the Kankakee Health Department for providing the vaccination clinic at Liberty Intermediate this afternoon. We were able to provide vaccinations to every district staff member that wanted one. The second shot will come in early March. This is a big step towards getting our students back in school full time.


BESD#53 Families: Just a reminder that the district will only send out notifications if school is CANCELLED, and those notifications will be sent around 5:30 a.m. Schools IS in session today. Thank you!

Dear BESD #53 Families and Community, We are aware of pending weather forecasts for tonight and tomorrow morning which may require us to alter our normal plans. This school year the State Board of Education has afforded us 5 Remote Learning Planning Days (these days do not have to be made up in the summer). Should the weather make travel too much of a concern for tomorrow, we will communicate out to everyone that we will be utilizing a Remote Learning Planning Day for all schools (no Remote Learning for Students on these days). Sincerely, Dr. Adam Ehrman, Superintendent