Listen to Author Nancy Gee at 3:30pm Tuesday on WVLI 92.7 and WIVR 101.7 then come out to Shabbona at 6pm for Reading is in Bloom!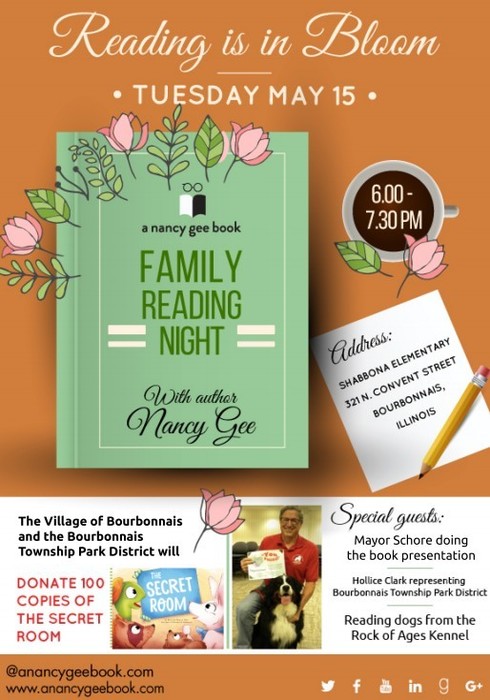 Thanks to everyone who helped to make the garden planting day a big success! #BESD53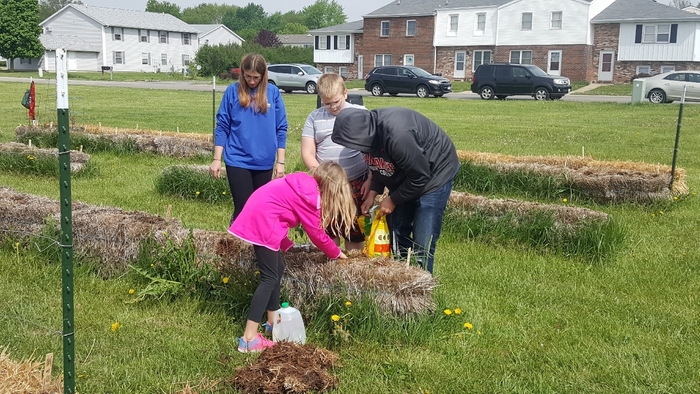 STRAW BALE GARDENING! Saturday 5/12 9am-12pm join BESD#53 and the Bourbonnais Library at our community garden for planting day! $5 a bale, plants will be available as well!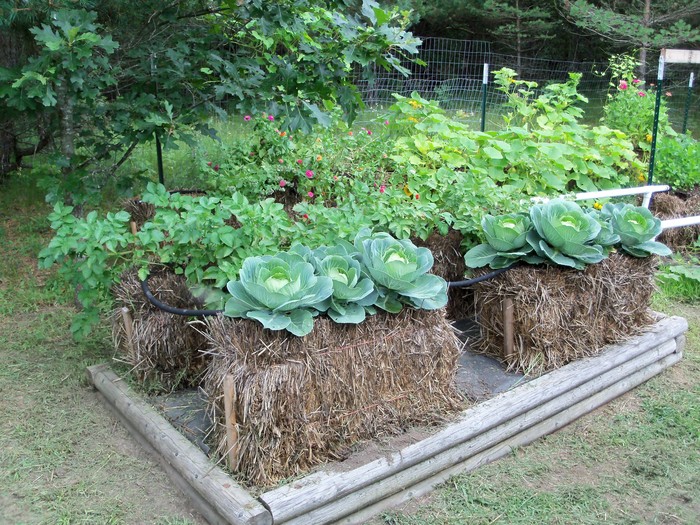 Just a reminder that flower pick up is TOMORROW morning from 9-11am at BUGC. Rain or Shine you MUST come and pick up your orders. This includes gift cards as well! Thank you for supporting the Bourbonnais PTA!!

Parents of 6th graders: Chromebook Turn In for 6th graders will be Monday, May 21st. For more information -
http://5il.co/3596

Parents of 7th graders: Chromebook Turn In for 7th graders will be Tuesday, May 22nd. For more information -
http://5il.co/3597

Parents of 8th graders: Chromebook Purchase or Turn In for 8th graders will be Wednesday, May 23rd. For more info -
http://5il.co/3598

Congratulations to the 4th Grade Spelling Bee Winners! 1st Place Lydia Hammond and 2nd Place Micah Randle-El. Thanks to Mrs. O'Gorman and everyone who participated. #BESD53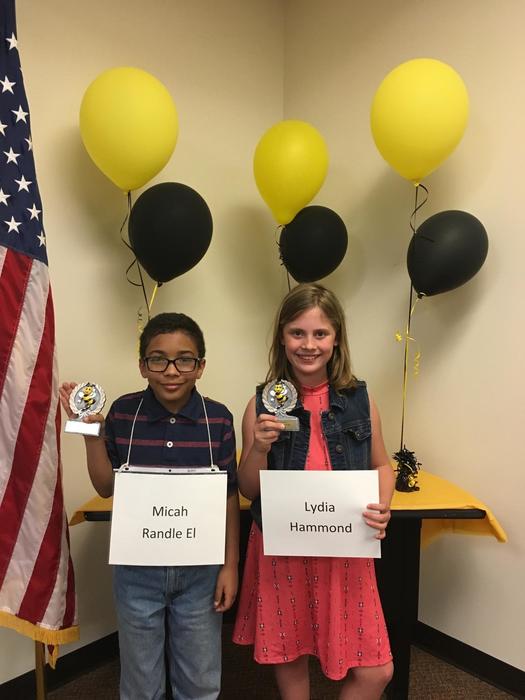 LAST CHANCE! Sign ups for Junior Boilermakers Football and Cheer are Thursday May 17th at the Bourbonnais library from 6-8pm!


Join Author Nancy Gee for Reading is in Bloom Tuesday, May 15th 6pm at Shabbona School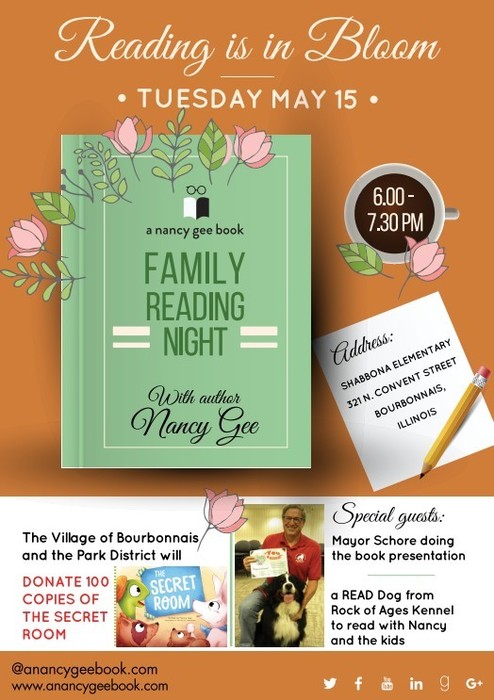 The Illinois FFA Service Project this year is called "The Crayon Initiative." This project takes donations in the form of used crayons, recycles them, and makes new crayons to be distributed to children's hospitals across the nation. Their goal this year is to collect 2,000 pounds of crayons. Bourbonnais Elementary would like to help the Manteno FFA organization to reach this goal. Starting on Monday, May 14th, collection bins will be placed in the front offices of our buildings including the central office. We want to encourage teachers, students and parents to donate used crayons to this cause. Often times crayons are thrown out when kids are cleaning their desks. Parents and community members are encouraged to drop them off at the Central Office. The initiative will continue through Thursday, May 31st. Thanks!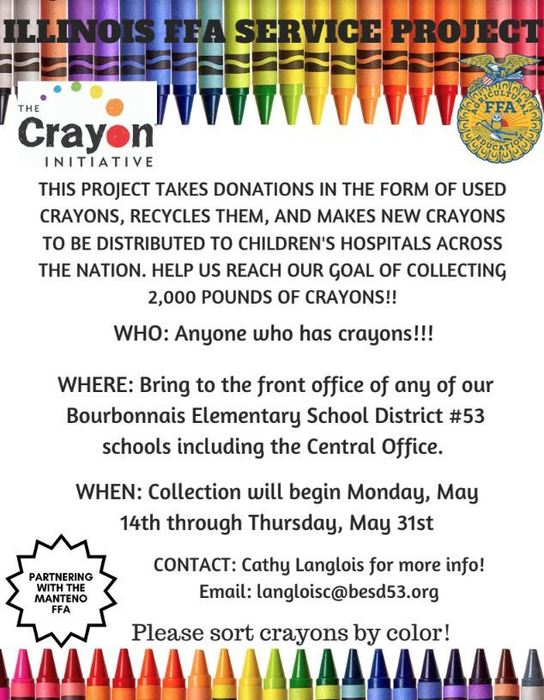 Congratulations to 3rd Grade Spelling Bee Winner Jace Cousins and 2nd place finisher Kylie Veit. Thanks to all participants! #BESD53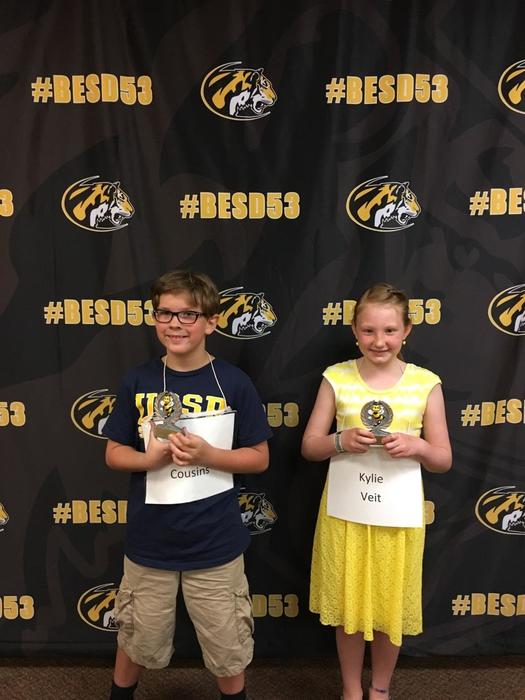 SNAP available at Kankakee Farmer's Market!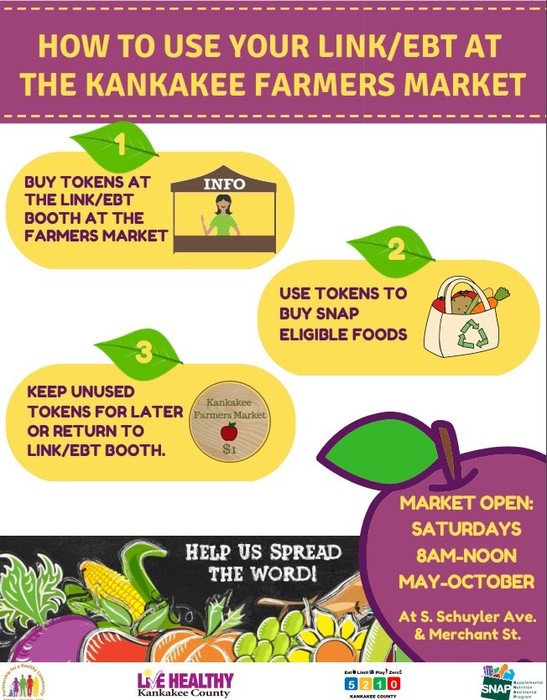 Say thanks to a teacher this week!


Last night at BBCHS Senior Awards Night, Dr. Hollowell had the privilege of presenting the Todd Hildebrand Memorial Scholarship to former BESD#53 student Brandon Wray!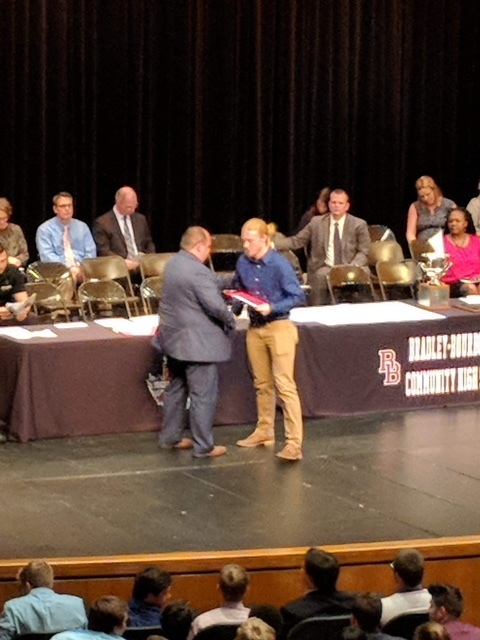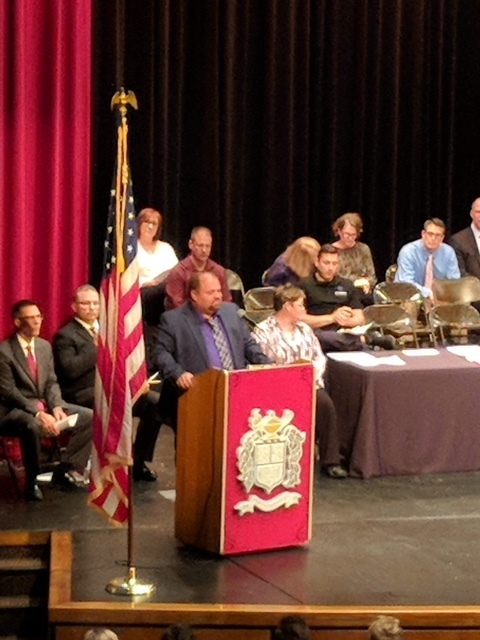 LeVasseur 4th Grade Math Team finishes 6th place in State ICTM Competition.

Reminder PTA Flower Sales are due Friday, April 27th! No Orders will be accepted after Friday!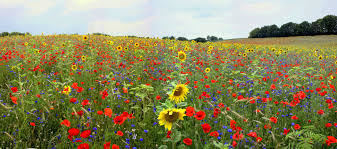 Visit the Curiosity Cube this Saturday!