Don't forget to register your student for the 22-23 School Year! If you haven't received a letter from the district you will need to prove residency, the letters were sent out on June 10. Have a great day!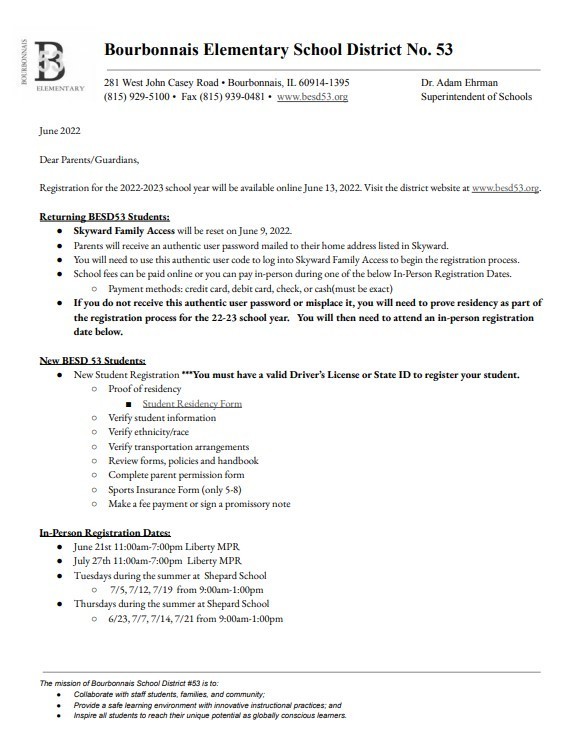 Don't forget to register your student for the 2022-2023 School Year! BUGC Supply List
http://5il.co/3s4z
Have a great summer!

5 BUGC Yearbooks left. $35 Cash or Check. Please stop by the office if you are interested!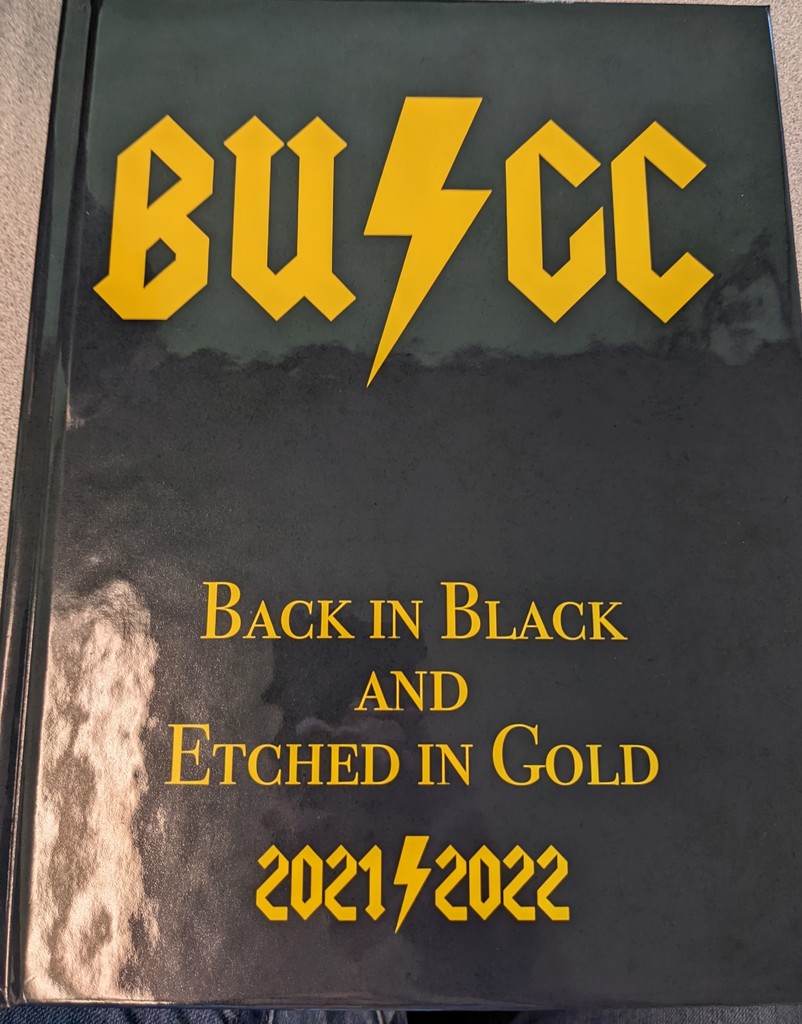 BUGC will not be mailing out the report cards that were not picked up. If you would like to stop by the office and grab them, we will be here 8-3 until June 24. THANKS!



BESD53 Families, This is a reminder that this Friday, May 27th is a regular full attendance day. School will be in session all day as usual. Thank you!

BUGC Lunch Menu 5/31-6/6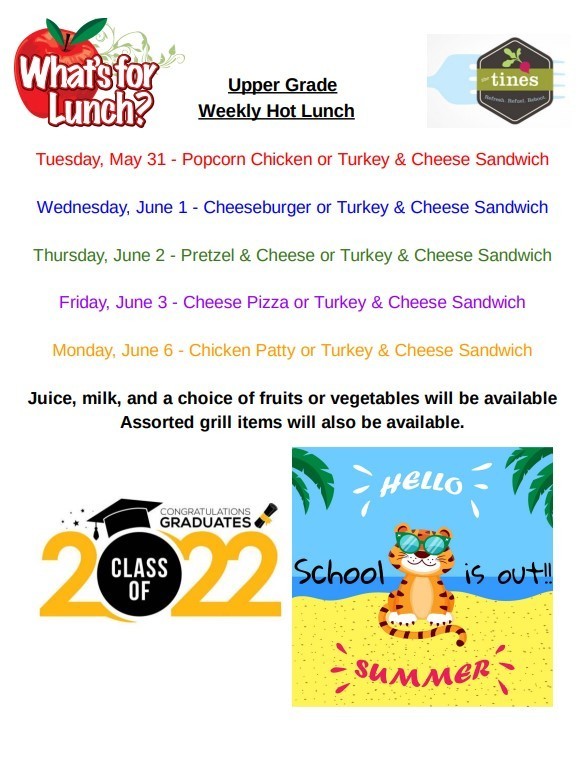 BUGC Lunch Menu 5/23-5/27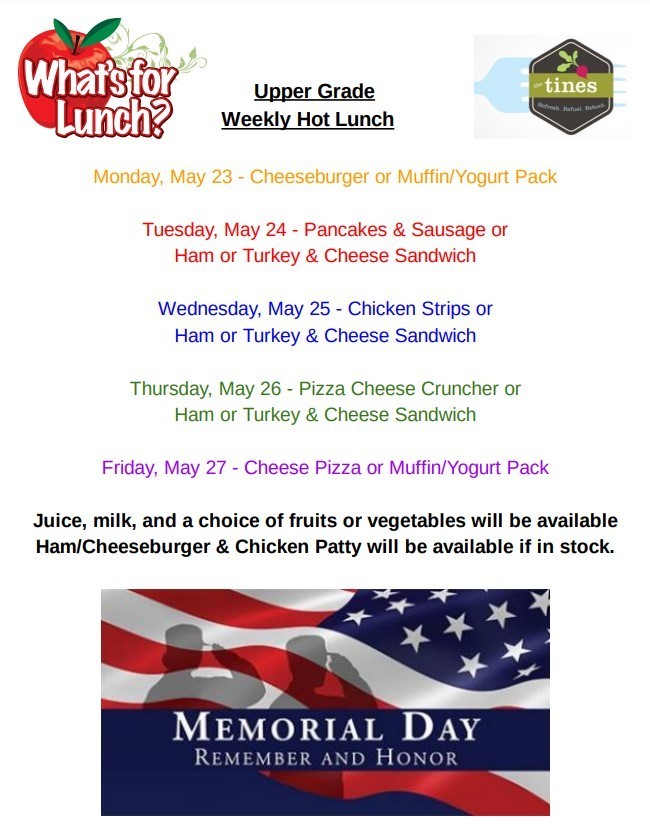 Good Morning Upper Grade Center Parents! I wanted to take a quick second to let you know of a few things about the end of the year. 8th Grade Information 8th Grade Promotion is set for Wednesday, June 1st at 7 P.M. at Centennial Chapel at ONU. Wednesday, June 1st will be the last day for 8th graders. This will be a full day of attendance with promotion practice in the AM on that day. Cap and gowns were distributed on Friday in 8th Grade PE classes, so those should be home by now. No tickets are needed for promotion as there is plenty of seating. More specific information regarding the ceremony will be communicated as we get a little closer to the event. 7th Grade Information The last day of attendance for 7th Grade students at BUGC will be Tuesday, June 7th. BUGC will dismiss at 11:10 that day. Yearbooks Yearbooks have arrived and will be distributed at a later date. Youth Mental Health & Wellness Fest May is Mental Health Awareness Month and the Iroquois-Kankakee Regional Office of Education's Life Education Center, Pledge for Life Partnership and Project SUN are excited to host The Youth Mental Health and Wellness Fest on Saturday, May 14, 2022. The fest will be held at the Farmers' Market in downtown Kankakee from 8:00 a.m. to noon. Please see the attached flyer for more information. As always, thank you for all that you do! If you have any questions, please call our office. Mr. Outsen – Principal Mrs. Longtin – Associate Principal

BUGC Lunch Menu May 16 - May 20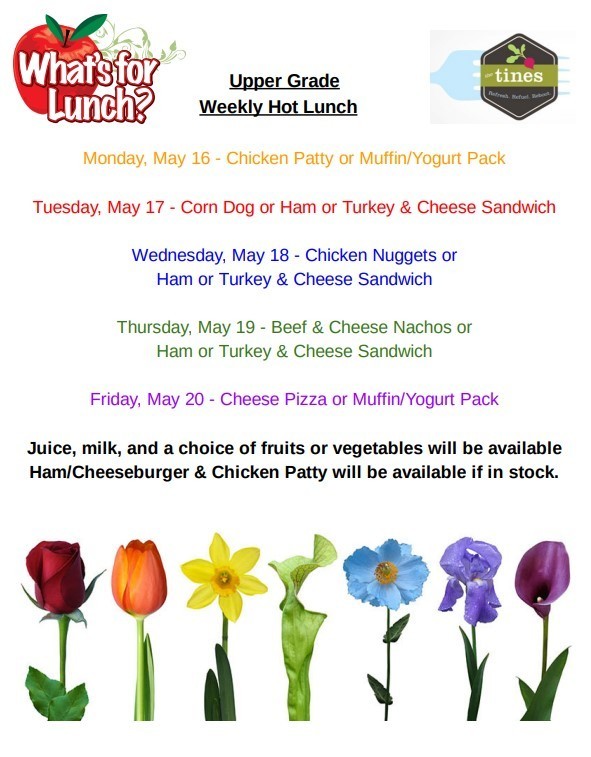 ATTN BUGC Students & Parents: We have a limited number of extra yearbooks for sale. They are $35. You can pay for them in the office. Cash or Check Only. The yearbooks will be passed out at a later date.

BUGC Baseball Tryouts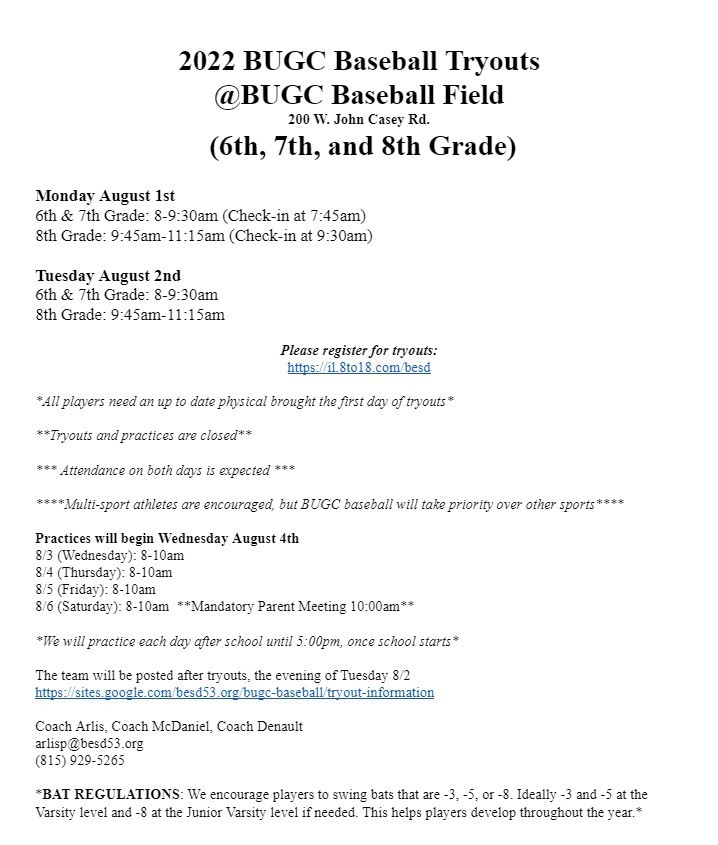 22-23 BUGC Cheerleading Tryouts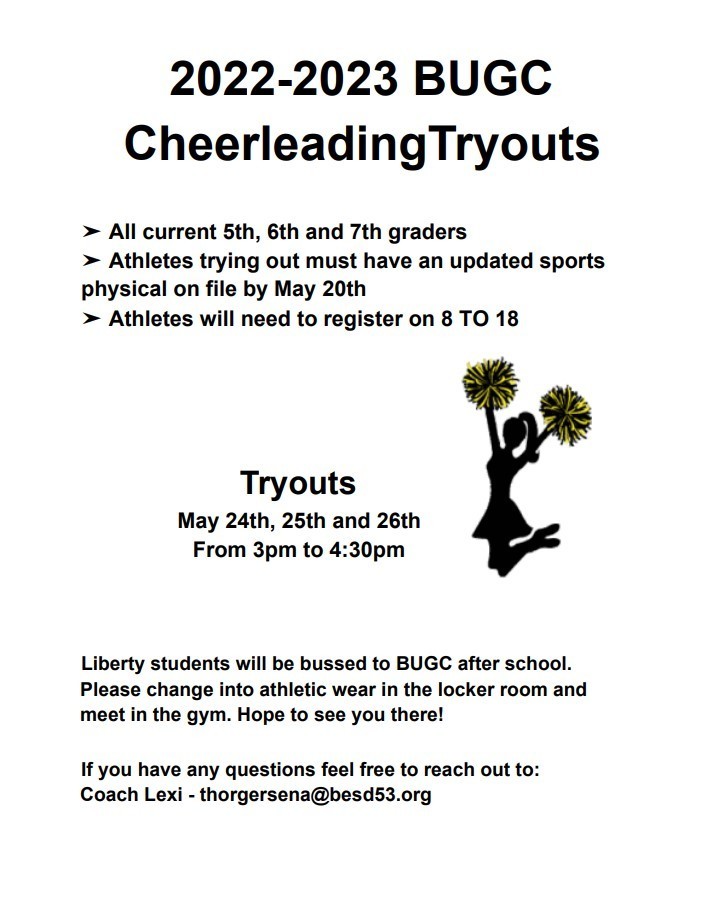 BUGC Lunch Menu 5/9-5/13

BUGC Lunch Menu 5/2-5/6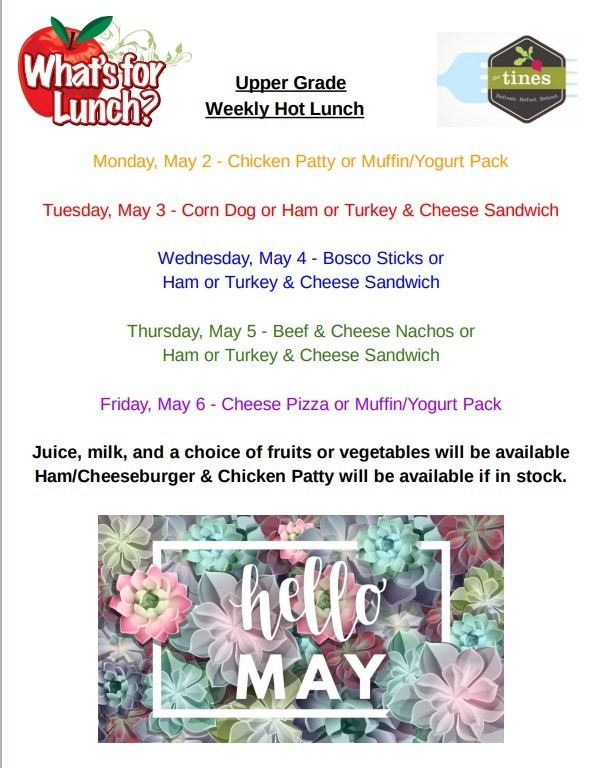 Hello fellow parents!! We are in this together! And now is your Time to shine!! Next week is our week to show the teachers just how much we appreciate all that they have done and will continue to do for our kids and our community. Please click the link below and bring in whatever you are able to donate. Please mark it PTA and drop it in the office at BUGC. I will come in on Friday to organize things for next week! I would love to meet some new friends and get some help as well!
https://tinyurl.com/bugc2022

BUGC Lunch Menu April 18 - April 22