BUGC Lunch Menu 9/20-9/24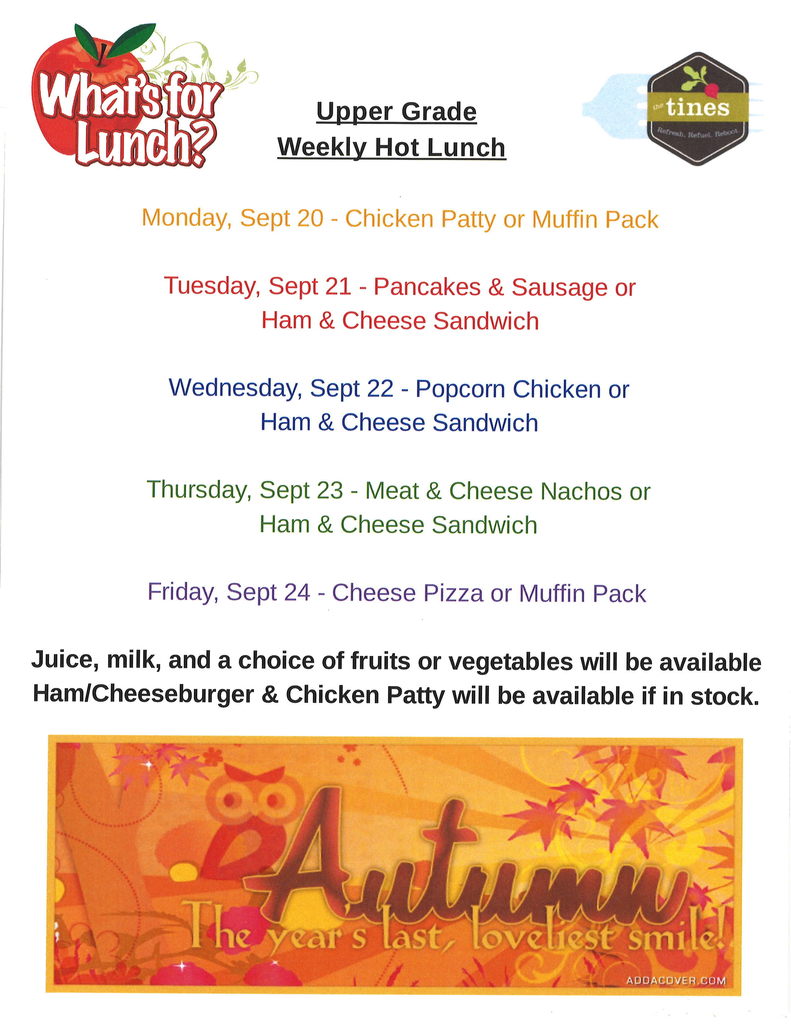 DON'T FORGET BUGC PICTURE DAY TOMORROW! (9/15) If you need a picture packet, have your student stop by the office we have extras!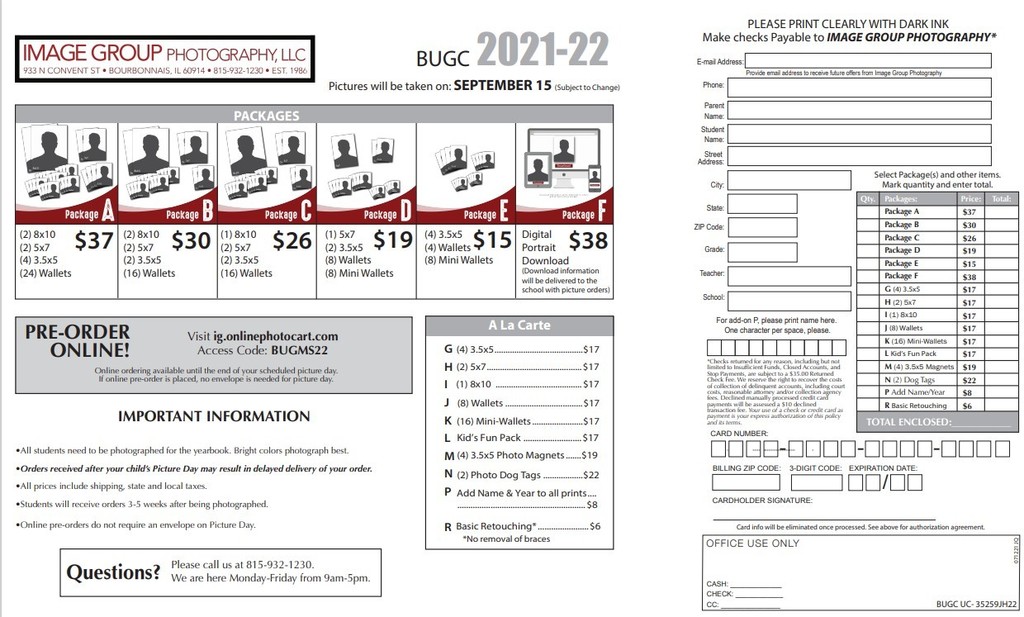 BUGC Lunch Menu 9/13-9/17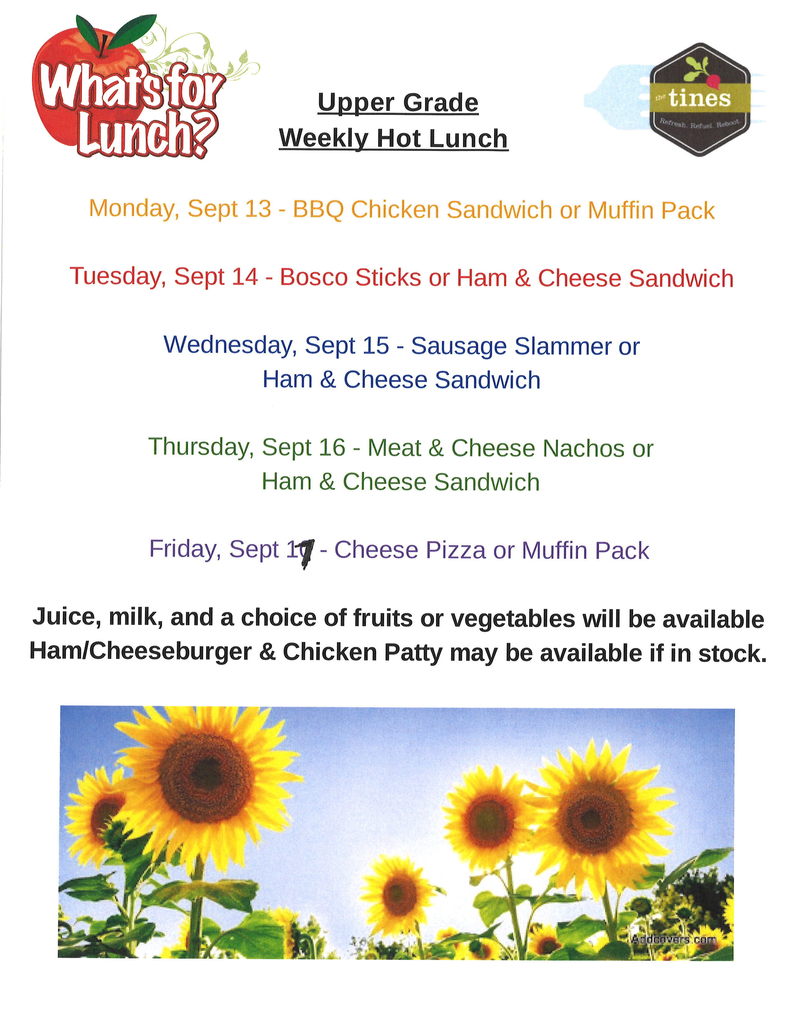 Update at BUGC: Fire Chief has cleared the scene. We are waiting for Nicor to provide a final clearance to return into the building.

BUGC The fire department is investigating an outside gas leak. Students and Staff have been evacuated to the Bourbonnais Bears Football field. We will return to the building when it is all clear.

Sports Pictures tomorrow afternoon September 8th. Don't forget your uniforms!! * Varsity Softball * Varsity Baseball * JV Baseball * JV Softball * Cross Country * Girls Basketball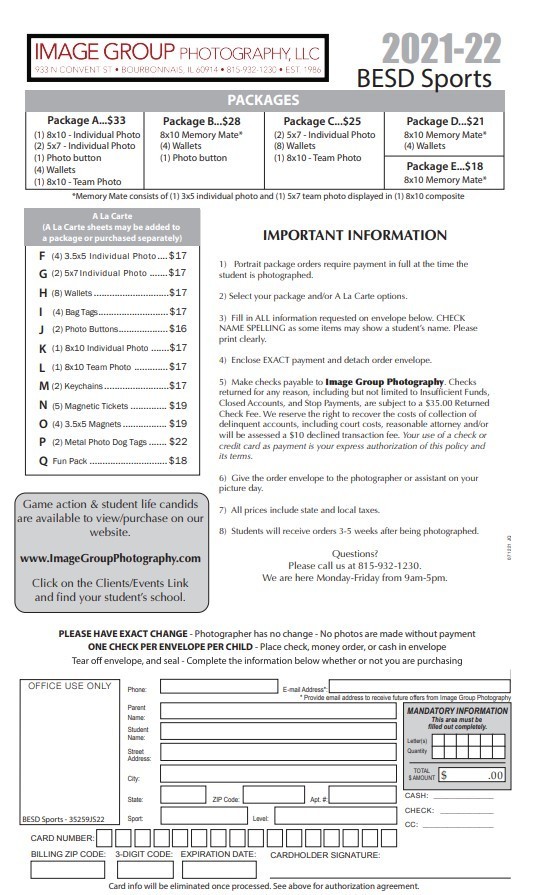 JV Softball game against Bradley on 9/7 has been cancelled.

BUGC Lunch Menu 9/6-9/10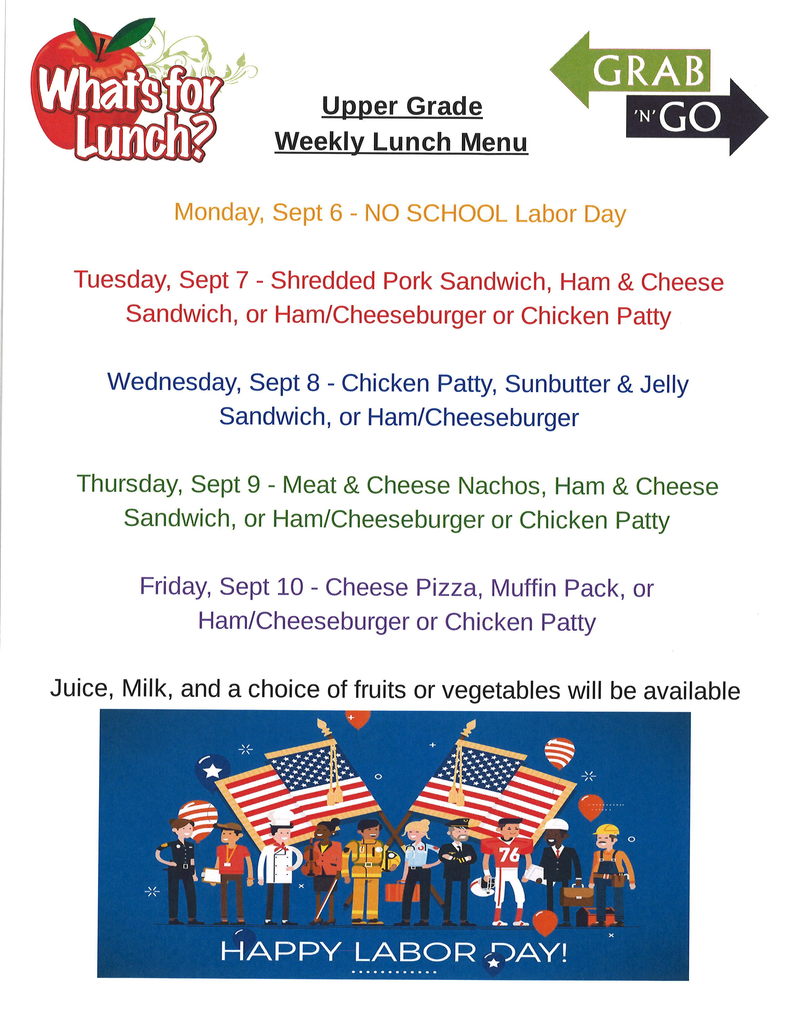 BUGC Picture Packets will be sent home soon. Pictures are September 15. Retakes will be October 27.

FRIENDLY REMINDER FOR 8th GRADE PARENTS/GUARDIANS Dear 8th Grade Parents / Guardians: Mrs. Carlton and I are excited to announce we are again leading the 8th grade trip to Washington D.C. over spring break, 2022! Your son or daughter was given an informational packet from their social studies teacher with all of the information for the trip. If you have not already registered from the spring meeting, we wanted to send you a reminder that the fall parent / student meeting will take place tomorrow, September 1st at 6:00 pm in the BUGC MPR. Please take a peek at the Washington D.C. destination brochure by clicking here. The WorldStrides Back to Travel Task Force is working hard to establish guidelines around safe travel in this new COVID-19 world. From keeping an eye on the evolving standards in the travel and education industries, to taking important steps to update health and safety practices, Mrs. Carlton and I feel confident we will be in great hands when we travel with WorldStrides. As we prepare for our tour, feel free to check out their updated Health and Safety protocols as they evolve in the time leading up to travel. Here's some additional information: • Our Trip ID is 193476. Use this to sign up at worldstrides.com/signup or by phone at 800-468-5899. •There's also FLAG financial assistance that is available to families who earn up to $85,000. •When you sign within 48 hours of the fall meeting, you will save $100 off the trip price after making the initial deposit. Plus, you'll have more time to spread out payments before your trip. If you have any questions, please email me at
chamernikd@besd53.org
or call me at (815) 929-5056. Sincerely, Mr. Chamernik and Mrs. Carlton

BUGC TIGERS 2021 is now open! There is also spirit wear available for your family and friends. Check out the shop details below. OUR SHOP DETAILS - Shop Now:
https://www.bsnteamsports.com/shop/CUvWLThYBd
- Store Open From: August 30 - September 1, 2021

BUGC Lunch Menu 8/30-9/4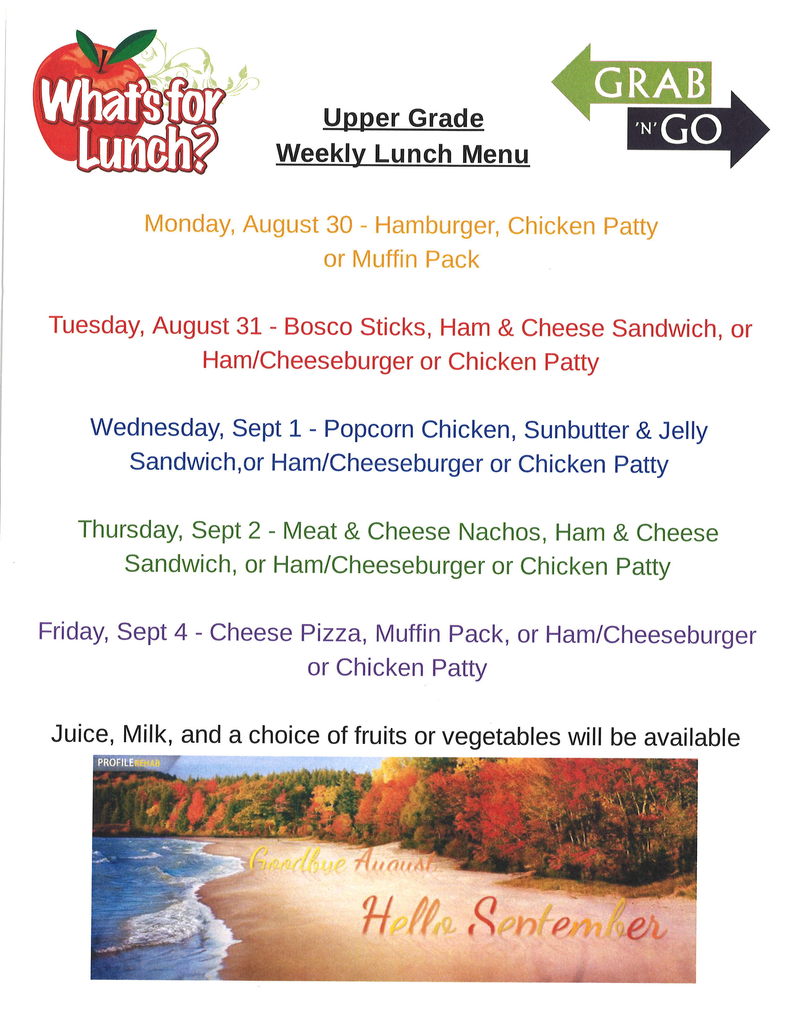 8-26 The JV Softball game has been cancelled today due to field conditions.
8/25 - JV and Varsity Softball games cancelled today due to heat.
8-24-21 JV Baseball and JV Softball games have been cancelled today.

BUGC Lunch Menu 8/25-9/2. Breakfast and Lunch are Free for students. However, in order for the fees to be waived we need lunch application on file. You can do this via Skyward.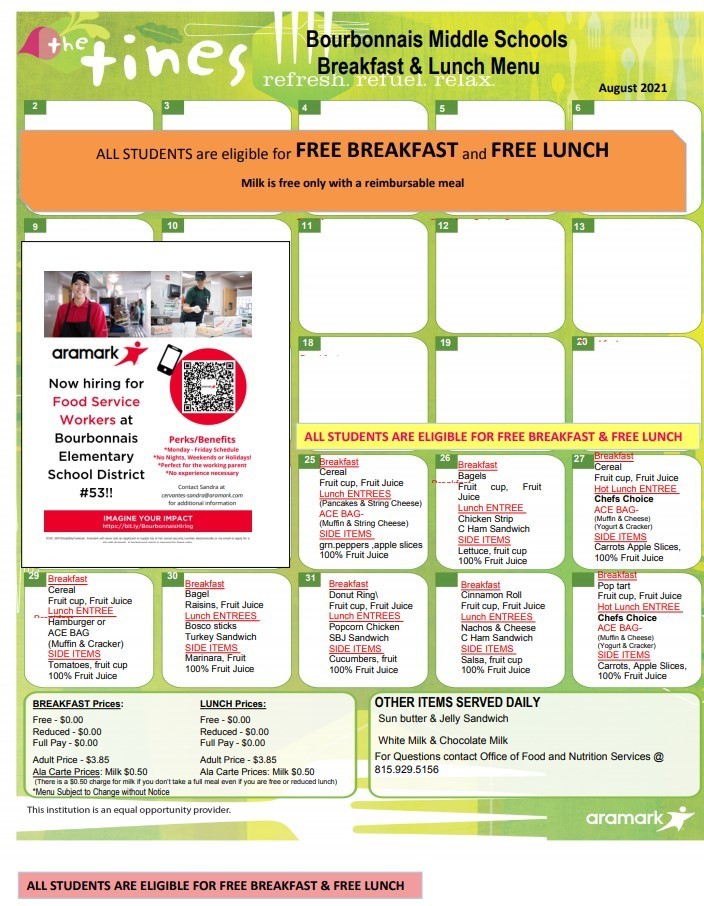 6th, 7th, 8th Grade Girls' Basketball Open Gym & Try-Outs Registration is required through 8 to 18 BEFORE Monday, August 30. -
https://besd.8to18.com/

BUGC unofficial schedules were posted. Please disregard. We will make another post when they go live.
8-17-21 Today's JV Softball game has been cancelled.

Aramark is currently in need of food service workers! The shifts are usually anywhere between 3-5 hours - anywhere from 8am-1:30pm. If this is perfect for you - Contact Sandra!