Elyssa's Mission is the organization that we partner with in order to help our students understand Mental Health. The following is important information for parents to keep in mind.

Hello, BUGC Parents!! The mobile dentist is coming to BUGC on Friday, May 14. The packets went home with your students today Friday, April 9. Packets are due back to their teacher or the front office by Friday, April 23 to participate. This is open to remote students as well. If you'd prefer to register them online, you can visit: 
www.MySchoolDentist.com
  You will get a confirmation email from them. Thank you and have a Fabulous Friday! Nurse Kidd

Spring Portraits ~ Friday, April 16, 2021. Please fill out the response form and turn it in to your student's teacher BEFORE picture day.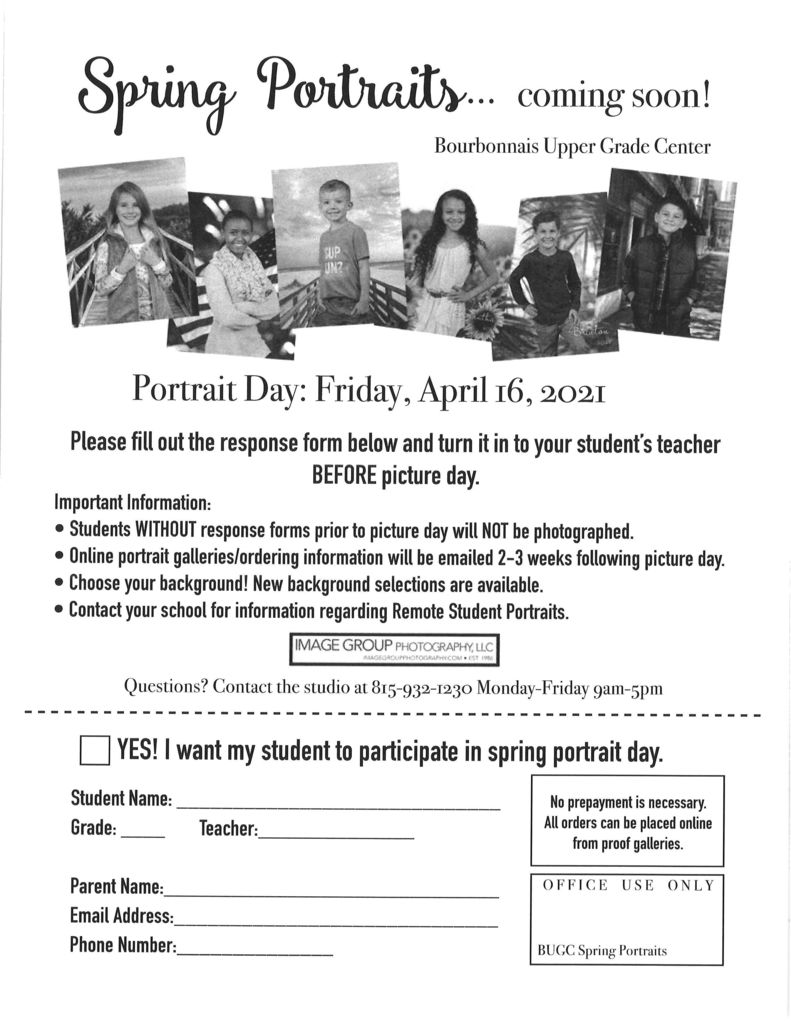 BUGC REMINDER: School will be in session tomorrow, April 5th.

BUGC Revised April Lunch Menu

March 24 : Pop-Up Food Giveaway Flyer sponsored by Choices Youth Outreach International & Duane Dean's Living Room Program.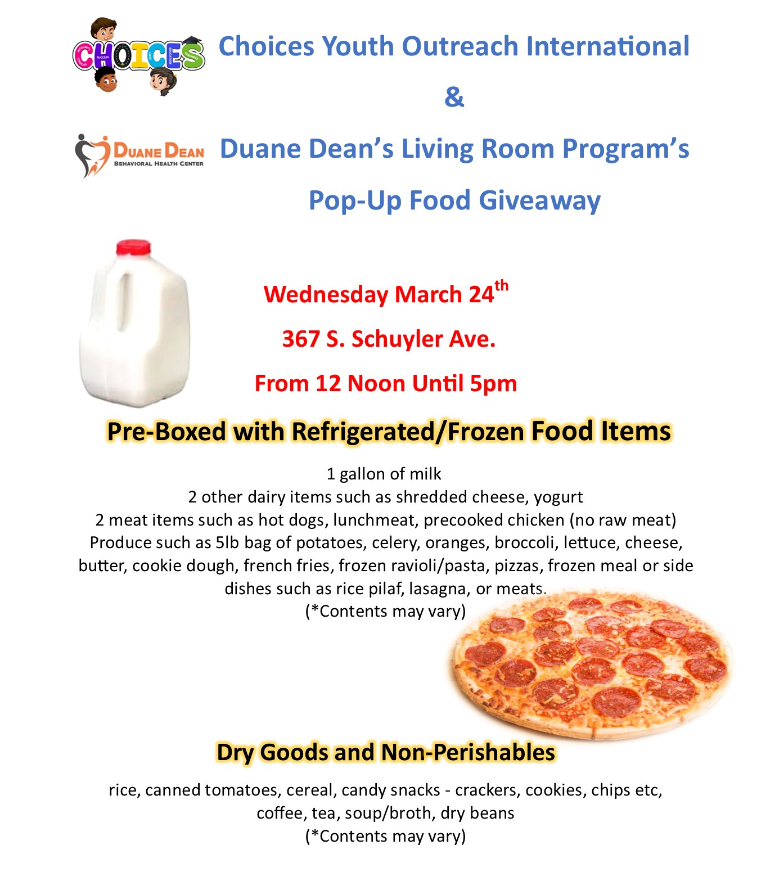 BUGC Schedule as of 3/23/2021


BESD#53 Families and Community, There will be a regularly scheduled meeting of the Board of Education on Tuesday, March 23rd at 7:00 PM. You will notice that we have made some changes with our virtual meeting setup. To watch the Board Meeting, there is now a button on the
www.besd53.org
homepage labeled "Board Meeting Live Feed." This will connect you to watch the Board Meeting via YouTube. This is a view only stream. If you'd like to address the Board, we are asking you to come to the Board Meeting at the District Office (281 W. John Casey Rd.). We ask that you be present at the beginning of the meeting for the public comment portion of the agenda. At that time, you would then present your short statement and leave the meeting directly afterward as we are still restricted with the number of individuals allowed in the room. You may then watch the remainder of the meeting on the live stream. We look forward to the day when we can be back to a normal board meeting setup, but we are encouraged to be moving forward to this step for public comments. Thank you!


All afternoon learning sessions are cancelled for Friday, March 19th. Teachers need that time to prepare 3rd quarter grades.

Intramural Soccer Information All 7th and 8th grade girls and boys are invited to join BUGC Intramural Soccer. Due to COVID we will not be playing against other local teams but we will do intrasquad scrimmages. The season will run April 7th through May 7th and practices will be daily 3:30-4:45 on the soccer field inside the track at BUGC. Players will need to have an up to date physical on file and a signed COVID waiver before they can participate. Please register HERE if you plan to participate. If you have any questions please email Coach Gremar at
gremark@besd53.org
LINK TO REGISTER:
https://besd.8to18.com/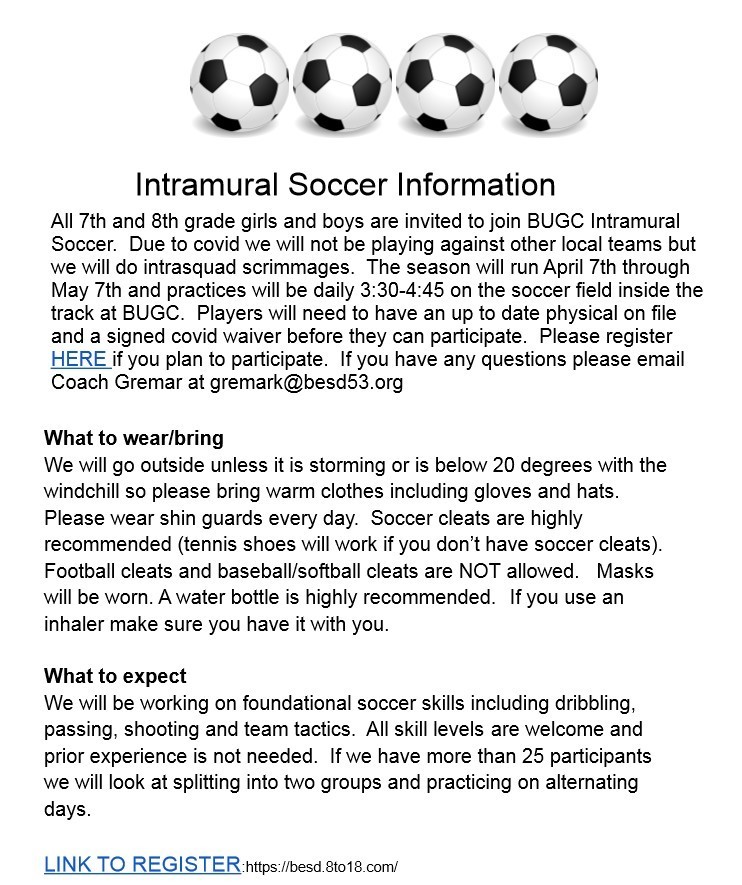 The Link to the survey has been adjusted. It is working now.


REVISED BUGC March Menu

BUGC: All BUGC afternoon virtual sessions are cancelled for today, Wednesday, March 17th.

Clove's Controversial Cinema: By popular demand, Clove Alliance is now offering an adult version of our Monthly Movie Review! Introducing Clove's Controversial Cinema! Each month we will pick a movie from Netflix that participants will view on their own time. At the end of the month, we will all hop onto Zoom to discuss with other adults in Kankakee County. Our first movie will be Perks of Being a Wallflower and the discussion will be held on March 23rd at 6pm. Please email
susan@clovealliance.org
to sign up. Adults of all ages welcome!

Please join Still I Rise for their Drive-Thru Food Giveaway II taking place on Monday, March 29th, 2021 starting at 4 pm at the Kankakee Farmer's Market grounds (250 South Schuyler Avenue – on the corner of Schuyler Avenue and Station Street) starting at 4:00pm. They will be giving away free food from the Northern Illinois Food Bank Mobile Pantry including frozen meat, fresh produce, bread, eggs, milk, non-perishable boxed items, etc. They have also partnered with Johnsonville to give away full boxes of Johnsonville breakfast sausages, taco meat, brats, and sloppy joe meat to help ensure families in need will have nourishing meals. Pepsi products will also be distributed.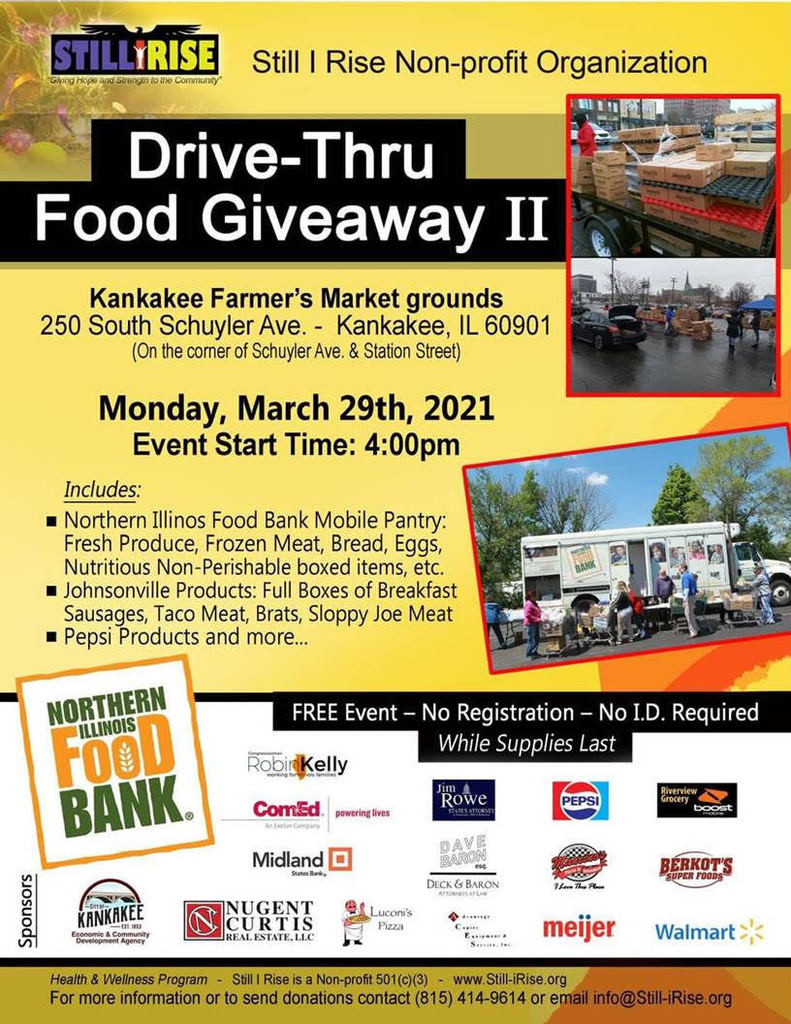 BUGC: Students M-Z will be in-person learners on Monday, March 15th.

6th/7th/8th BUGC Track and Field 2021 UPDATED TRYOUT DATES! All student athletes need an up-to-date physical in order to try-out. Please register by clicking on this link:
https://besd.8to18.com/
Wednesday March 17th 6th-8th Boys @ BUGC 3:30-5 PM Thursday March 18th 6th-8th Girls @ BUGC 3:30-5 PM All call back numbers for 6th, 7th and 8th grade will be posted on the BUGC website under athletic information by 6:30 pm Friday March 19th Call Back Practice @ BUGC 3:30-5 PM All final numbers for 6th, 7th and 8th grade will be posted on the BUGC website under athletic information by 6:30 pm

BUGC: School is back in session for tomorrow, March 12th. Students A-L will be in person learners.