Congratulations to the following student-athletes who made the 2019 BUGC Track team. If your number is below, the first practice will be tomorrow at BUGC from 3-4:30. If your student athlete has questions, please direct them to the following coaches. 6th Grade- Coach Chamernik 7th Grade- Coach Carlton or Buck 8th Grade- Coach McDaniel As coaches, we will not respond to parent calls or emails until the student athlete has taken responsibility to come to talk to the coach about try-outs. 1, 2, 5, 6, 12, 15, 16, 18, 22, 23, 25, 27, 29, 30, 34, 35, 36, 37, 38, 42, 43, 46, 52, 53, 54, 70, 71, 72, 73, 74, 75, 77, 80, 81, 82, 84, 86, 88, 92, 93, 94, 95, 96, 97, 99, 100, 102, 103, 105, 106, 107, 108, 109, 120, 125, 126, 127, 128, 130, 131, 132, 133, 137, 139, 142, 147, 148, 151, 152, 157, 163, 164, 165, 169, 171, 175, 176, 177, 178, 179, 180, 181, 182, 183, 184, 185, 187, 189.
These 7th graders have made it to callbacks for Track Tryouts. Please come to Round 2 on Thursday from 3-4:30 at BUGC 70, 71, 72, 73, 74, 75, 77, 80, 81, 82, 84, 86, 87, 88, 89, 90, 92, 93, 94, 95, 96, 97, 98, 99, 100, 101, 102, 103, 105, 106, 107, 108, 109, 110
These 6th graders have made it to callbacks for Track Tryouts. Please come to round 2 on Thursday from 3-4:30 at BUGC. 1, 2, 5, 6, 8, 10, 12, 13, 15, 16, 18, 22, 23, 25, 27, 29, 30, 33, 34, 35, 36, 37, 38, 39, 40, 42, 43, 45, 46, 47, 51, 52, 53, 54, 55
BUGC Soccer practice is cancelled tonight!!
BUGC soccer practice is cancelled for tonight, Friday, Jan. 25th.
Due to expected weather and safety concerns, all BUGC after school activities are cancelled today, January 23rd. This includes athletic practices and games, as well as club meetings and activities.
All after school activities at BUGC are cancelled for today. BUGC Students will be released 12:30..
Bourbonnais Upper Grade Center is offering a soccer experience for our students. Students can participate in an indoor soccer league that last 7 weeks. Games will be played on Saturdays @ Adventure Commons (formerly Hidden Cove) Practices will be on Thursday's from 7-8pm @ BUGC and Friday's from 6-7 pm @ Adventure Commons Church. The first practice will be Thursday, Jan.17th at BUGC from 7-8pm. If you have a soccer ball please bring it to practice. All students must have a signed insurance waiver to participate. Interested students can obtain an informational flyer and insurance waiver on Friday, Jan. 11th in PE classes.
The following athletes have made the Bourbonnais Upper Grade Center 2018-2019 Volleyball Team and should report to practice tomorrow at BUGC from 4:30-6pm: 3,8,9,12,17,20,24,25,26,30,31,33,35
The following 7th grade athletes should report to volleyball practice on Wed. Dec. 5th 4:00-5:30pm @ Liberty: 5, 10, 12, 13, 19, 21, 22, 27, 35, 36, 41, 42.
The following 8th grade volleyball athletes should return to final try-outs Wednesday, Dec. 5th 3:00-4:30 @ Liberty: 1, 2, 3, 8, 9, 12, 14, 15, 16, 17, 20, 24, 25, 26, 29, 30, 31, 33, 35.
The following 7th grade volleyball athletes should return Monday 4:30-6:00 @ BUGC for the last try out session: 5, 9, 10, 12, 13, 19, 21, 22, 24, 25, 26, 27, 28, 29, 34, 35, 36, 41, 42, 43,
Please note there has been changes to the 8th grade volleyball tryouts. The schedule is as follows: Saturday, December 1st from 8:00am to 10:00am at Liberty. Monday, December 3rd from 3:00pm to 4:30 pm at the Upper Grade Center. Wednesday, December 5th from 3:00pm-4:30pm at Liberty.
Please note there has been changes to the 7th grade volleyball tryouts. The schedule is as follows: Friday, November 30th from 3:00pm-4:30pm at Bourbonnais Upper Grade Center. Saturday, December 1st from 10:00am to 12:00pm at Liberty. Monday, December 3rd from 4:30pm to 6:00 pm at the Upper Grade Center.
2018-19 BUGC 7th Grade Basketball Team 6, 9, 11, 12, 13, 14, 15, 20, 21, 27, 29, 33, 34, 2018-19 BUGC 8th Grade Basketball Team 46, 48, 49, 51, 53, 54, 56, 58, 66, 67, 69, 71, 78,
Our Varsity Softball Team defeated Peotone 3-2 today. They play against Beecher on Monday at 4:30 @ Manteno for the Regional Championship. Come on out and support the Tigers!!!
REMINDER: New Student Orientation @ BUGC. Thursday, Aug. 16th @ 7pm.
2018 Girls' Basketball Tryout Information Tryouts Monday: August 27th 3:00-5:00pm @ BUGC Tuesday: August 28th 3:00-5:00pm @ BUGC Wednesday: August 29th 3:00-5:00pm @ BUGC Softball Players will tryout: JV/V: Tuesday, August 29th 5:00-6:00pm @ BUGC Please wear Athletic Clothing: Gym shorts, t-shirt and tennis shoes. ALL Athletes need to have an Insurance Waiver completed and Updated Physical (within the last year) to Tryout! Thanks, Coach Russell 8th Grade Coach Coach Gamble 7th Grade Coach Questions? Coach Russell
russellm@besd53.org
or Coach Gamble
gamblem@besd53.org
*A Google Form will be sent to student's school email or can be completed on Facebook. Please complete the Form so we can begin the signup process for tryouts. * Tryouts are CLOSED to parents and friends
The BUGC Cross Country Team had an awesome meet today. Overall the girls took third place and the boys finished first. We had two girls earn an individual medals. (Kayla Willett 18th place and Finley Westover 7th place.) We had five boys earn individual medals. (Kylie Pralle 19th, Ayden Steelman 10th, Ebenzer Gideon 9th, Jermiah Lanum 6th, and Isaiah Davis 2nd) The 6th grade ran a one mile race. Madeline Mellin took 3rd for the 6th grade girls and Kash Goranson took 1st for the 6th grade boys.
GIRLS BASKETBALL OPEN GYM Tuesday, Aug. 7th 8am-9:30 am Thursday, Aug. 9th 8am-9:30 am Tuesday, Aug. 14th 8am-9:30 am Thursday, Aug, 16th 8am-9:30 am Incoming 6th, 7th & 8th graders
BASEBALL UPDATE: Any baseball player wanting to trying out for baseball that has a conflicting schedule because of AAU, All-stars, etc will need to attend at least one day of tryouts which are scheduled Monday (7/30) and Tuesday (7/31) from 8-10am. If neither of those days and times work a special time can be scheduled on the evenings of Monday (7/30) or Tuesday (7/31). Please contact coach Arlis if this is needed at
arlisp@besd53.org
Thank you to all who tried out for the BUGC Softball Team. The following need to report to practice on Monday, July 30th. Practice is from 4:00-6:30 pm at the BUGC softball field. Please refrain from wearing travel softball jerseys/shirts. BUGC spirit wear is encouraged, though not mandatory. Please arrive 10-15 minutes early to set up the field. 1 2 3 4 7 8 9 11 12 13 15 17 18 19 20 25 26 28 29 34 36 39 40 42 45 49 50 53 55
2018 BUGC Baseball Tryouts @BUGC Baseball Field 200 W. John Casey Rd. (6th, 7th, and 8th Grade) Monday July 30th 6th Grade: 8-10am (Check-in at 7:45am) 7th Grade: 10:15am-12:15pm (Check-in at 10am) 8th Grade: 1-3pm (check-in at 12:45pm) Tuesday July 31st 6th Grade: 8-10am 7th Grade: 10am-12pm 8th Grade: 12:30pm-2:30pm Please register for tryouts:
https://goo.gl/forms/svRPriHS8meaFuqZ2
*All players need a signed insurance waiver and up to date physical brought the first day of tryouts in order to try out* **Tryouts and practices are closed. This helps ensure that your child performs without any additional pressure.** *** Please plan on being present both days *** ****Multi-sport athletes are encouraged, but BUGC baseball will take priority over other sports**** Practices will begin Wednesday August 1st 8/1 (Wednesday): 8-11am 8/2 (Thursday):8-11am 8/3 (Friday):8-11am 8/4 (Saturday): 8-11am, Parent Meeting 11am *We will practice each day after school from 3-5pm, once school starts* The team will be posted after tryouts, the evening of Tuesday 7/31
https://sites.google.com/besd53.org/bugc-baseball/tryout-information
CROSS COUNTRY UPDATE: ​​Pre-Season Training: (THIS IS NOT MANDATORY)​ 7am-8:30am July 30th-thru-August 3rd, and August 6th, 7th and 10th AT LIBERTY Please bring any physicals and insurance waivers at that time. ​Contact Coach Katie Buck with any questions-
buckk@besd53.org
The BUGC School Supplies List 2018-19 is currently posted on the BUGC webpage under "Documents".
BUGC yearbooks will be distributed on Wednesday, May 23, during Tiger Time. If your child is unsure if a yearbook has been purchased, please have your child check with his/her Tiger Time teacher. We have a limited supply of extra yearbooks available for purchase. They will be sold on a first come, first serve basis. The cost of the yearbook is now $35. Please bring the payment directly to Mrs. Mountain in room 106 to reserve a copy.
If your child plans to participate in any sports programs next year, they will need a valid sports physical. On June 9th Oak Orthopedics will be offering sports physicals for $20 cash only. Oak will also give all of payments back to the BUGC Athletic Program. Get your child's physical and support BESD#53 sports progams!!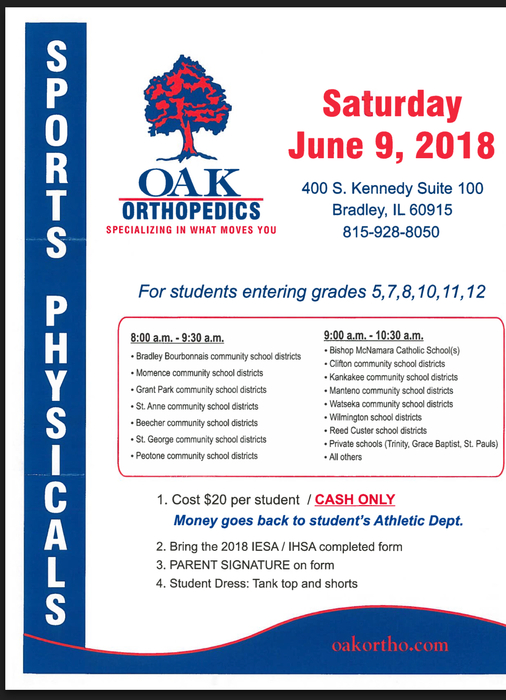 Today at BUGC 7th grade team Gold teachers developed STEM Lessons for the entire school. These were innovative lessons that encouraged students to think critically, collaborate, and use their creativity to problem solve. Thanks to the team for designing another opportunity to live our mission statement of "Creating Tomorrow's Innovators" and having fun.
Today's 6th garde Track Meet with Summit Hill is cancelled.

Today's track meet at Dwight Middle School has been cancelled.
Kindergarten and New Student Registration Registration for kindergarteners and new students for the 2018-2019 school year will be held May 15th from 2:00 p.m.-7:00 p.m. at BESD 53 Administrative Offices, 281 W. John Casey Road. If you have a child or know of a child who will be attending kindergarten, or a student who will be new to the school district next year, the child needs to be registered in order to be placed in a class. In order to register your child, you will need to have a valid, state-issued picture I.D., your child's county-issued birth certificate, and proofs of residency. To prove residency you MUST have HARD COPIES of at least one of the following: · Most recent tax bill · Mortgage bill or closing papers · Lease papers with proof of current payment AND You must also have two other recent documents showing your correct address. This can include: · Current utility bill · Vehicle registration · Driver's license · Public Aid card If you have questions, please call 815-929-5100
2018 Illinois Youth Survey The Illinois Department of Human Services and the IKAN Regional Office of Education are requesting that our 8th grade students take a statewide anonymous survey to better understand youth attitudes and behaviors that can impact student problems and academic success. This survey asks about topics of nutrition, physical activity, bullying, tobacco, alcohol, and other drug use. Students will be asked to complete the survey with no names or identification. The survey will be confidentially administered on March 9th during 8th period. The survey is voluntary and privacy will be strictly protected. Parents can contact BUGC to have your child opt-out if you do not want them to take the survey. 815-929-5200

Starting at 11:30 a.m. Wednesday December 6th, network and phone services at BUGC will be unavailable due to a network upgrade. Service should be returned by Wednesday evening.
This month in Science Club at BUGC, students created Scribble Bots! Students spent a bit of time learning about electric motors and then they had the opportunity to use them. Students hooked the motors up to batteries and went to work. Students were quite innovative in how they were able to get their bots to move. Some students even put their bots head to head in a Battle of the Scribble Bots! Science Club at BUGC was made available to 7th and 8th grade students. It meets once a month and is sponsored by Mrs. Lanoue and Mrs. Soucy.
BBCHS will be hosting an Eighth Grade Informational Night on Monday, December 18th at 6:00 PM in the auditorium. The purpose of this meeting is to share information about registration, course selection for 9th grade students, and other important information about your child's first year at BBCHS.