EDIT MAIN
Alan B. Shepard Elementary School
TEACHING STUDENTS TO DEVELOP CHARACTER WHILE REACHING THEIR FULL POTENTIAL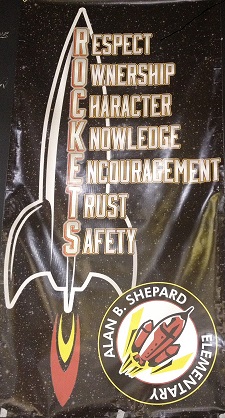 The Alan Shepard Elementary School Staff is excited to welcome you to a new year. It continues to be our mission to provide each of our students with a challenging curriculum based on the ever changing needs of our children.
The teachers here at Shepard work continuously to find ways to make our school student-centered which in turn helps our children stay focused on learning!
We also want to make parents feel comfortable in the school environment and welcome a visit anytime. Please feel free to have lunch with your child, volunteer in the classroom or serve on one of our school committees. We will communicate these opportunities to you through newsletters that will be delivered to you via your child's backpack.
When parents and educators work together students are successful. Keeping the lines of communication open makes this happen. We can be contacted through e-mail, notes or by phone.
For more information about Alan Shepard Elementary School please explore the rest of our website.
Shirley Padera
Alan Shepard Elementary School
Principal
Our school community is committed to providing academic, physical, social and emotional instruction by :
Establishing an atmosphere of trust
Focusing on the positive
Developing lessons that creatively meet the needs of all students
Promoting a sense of student responsibility for their own learning and character
---
| | |
| --- | --- |
| School Hours | Office Hours |
| 8:30 a.m. - 3:30 p.m. | 7:30 a.m. - 4:15 p.m. |
PRE-KINDERGARTEN HOURS
| | |
| --- | --- |
| A.M. | P.M. |
| 8:30 a.m. - 11:15 a.m. | 12:45 p.m. - 3:30 p.m. |
---